Having a personal domain name might not sound receptive to you and if so, it is not your fault. Why would you ever want to have a personal domain name anyway?
Think about this; don't you think it is great to type yourname.com and see all your works, your legacy, creativity and passion?
It will be awesome to be able to check out your online space and be inspired by your work.
So I am here to let you know that having a personal domain name is worthwhile and here are 4 reasons your Name matters on the Web.
1. Don't look down on Personal branding
Personal branding is a big topic on the internet and I think that it has been made so complex that people equate branding with big companies.
Do you know that the humble beginning of branding starts with you? Remember that gesture that you make that is only unique to you or the words that you say that make everyone recognize you instantly. That really is branding
Having a personal domain name is a great way to stand out. Being on a social platform isn't enough; just having a presence on LinkedIn is just a tip of the iceberg. You need to be unique in the crowded online space to make a difference.
There are so many great things you can do with your personal domain name. Need some inspiration; check out these awesome people that are using their personal domain names to make a difference. Neilpatel.com, Enstinemuki.com, Davidadeleke.com, Rohanchaubey.com, Yemisiagusto.com, etc.
2. Google Likes Your Name
There is this debate about the relevance of domain names when it comes to search rankings. it is not surprising that one is advised to pick a domain that is unique, relevant to the niche and search engine friendly.
However, Google is becoming smart these days and they are interested in quality content. This leaves you with the option of being creative with your personal domain name.
You have the opportunity to use your name to showcase your expertise and creativity. Your personal domain does not have to be pointed to your website alone, you can do the following
Create a personalized email with your domain name. first@lastname.com
Design and showcase a superb landing page that reveals your work. Check these examples.
Use your Domain name for link shortening /forwarding
Show albums or even invite people for an event
I just listed a few out of many awesome ideas. It is all left to your creative genius and for Google to amplify it.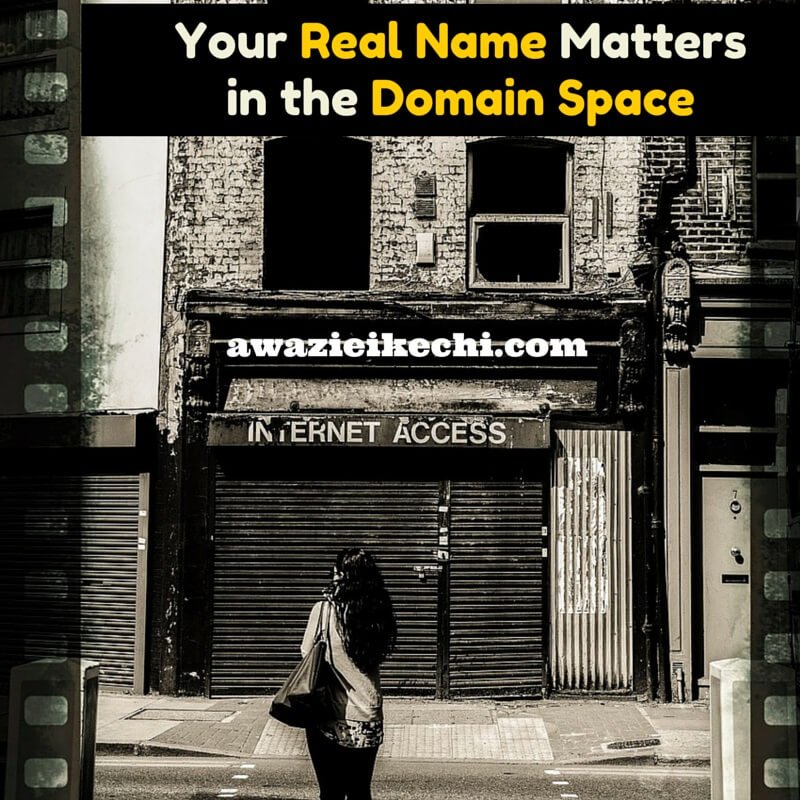 3. It is about Reputation
Have you ever tried to type your name on Google search and see the result? You might discover the following:
You are not the only one bearing your name
There is information about you that is not ethical or professional
Your name does not even exist in the search. (If you discover number 1)
Your name is used for SPAM. It is painful and can spoil one's image
If you haven't suffered through any of this then count your lucky stars but you still need to think about your reputation.
What You Can Control
First impressions do matter. Being on Social Media has its benefits but ask yourself this question, is your data 100% safe on Social Media? Can you predict the lifeline of the Social Media platform? There are so many Social Media Platforms these days
Social Media isn't an advocate for controlling information and has been known for causing controversies. If you want to create a positive impression, Isn't it best to invest with just a little amount of money that will last you a lifetime?
4. Think about the Future
If you have gotten a personal domain name and think that you have just wasted your money, I don't really think so. If you haven't gotten your personal Domain name, I suggest you do.
Personal domain names might not be the trend now but in a few years from now, you will need it. The perception of websites keep changing every day and there are more interesting domains popping everyday like .me, .vu, .in etc.
Now there was a time, domain names were expensive and owned by professionals but these days, you can get a domain name at no cost. So get a personal domain name, think about what you want to do with it, and do it.
Over To You
I have given my opinion about having personal domain names. So I pose a question, what do you think about having personal domain names? Please share in the comments?