When you are faced with a situation that is beyond your ability and control, the natural thing to do is to sweep it under the carpet.
After all, it's beyond your ability and there is nothing you can do about it. If you certainly agree with me, then this true live story should change your mindset.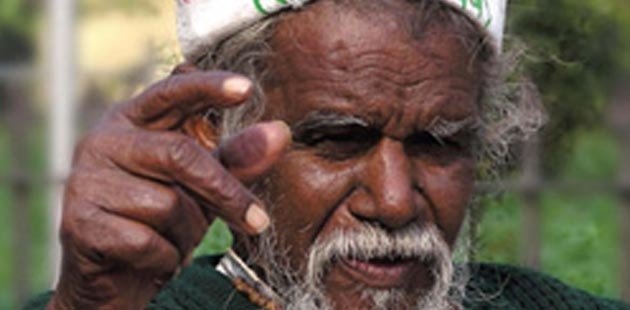 Born in  Musahar community considered as the lowest among the Hindu scheduled castes in india was a poor labourer named Dashrath Manjhi.
Dashrath Manjihi lived in  Gahlour village near Gaya, Bihar. His village was flanked by mountain hills and the villagers would have to go through the jagged rockbound hills to reach the other side to get employed in the fields.
Dashrath worked in the fields beyond the hills and his wife Falguni Devi  passed through this dangerous hills to provide food and water for her husband.
in 1960, Dashrath lost his wife due to lack of timely medical attention as there was no way to take her to the hospital because of the rocky terrain. She had slipped on the rocky hills and sustained an injury.
Dashrath could not forget the pain and anguish he saw on his wife's face. He realized that this rocky path had been a problem for his village and since he knew that the government would neither listen him nor do anything about it, he decided to take action.
He bought a rope, a chisel and a hammer and began creating a road path on the hill. Day and night he worked with his chisel; people thought he was mad and made fun of him but rather than allow their criticism to make him quit, it strengthened his resolve. 
22 years later, Dashrath had built a 360 feet long, 30 feet high and 25 feet wide passage through the Gehlour hills, which reduced the distance between Atri and Wazirganj from 55 km to 15 km. He had achieved his goal in 1988 and this brought him international acclaim
Dashrath died at the age of 80 on August 17, 2007 after a prolonged battle with cancer at Delhi's All India Institute of Medical Sciences (AIIMS). He was so inspirational to his community that a movie was filmed in his honour; Manjhi – The Mountain Man
Invaluable Lessons From The Legend:  Manjhi – The Mountain Man.
1. Patience. 
I admire the patience of Dashrath. He endured pain and built the road for 22 years. 
2. Attitude is Everything.
He did not waver at the task at hand. He did not look at the impossibility of the task but overcame the obstacle.
3. Don't Lose Confidence when people limit your ability
In a previous post, I talked about what you should do when people limit your ability, the story of Dashrath is a fine example of how to tackle such issue. He never lost confidence in his ability. No one could shake away his dream. here is quote from him, " When I started hammering the hill, people called me a lunatic but that steeled my resolve". 
4.  Being Positive
Losing a wife is hard to bear but Dashrath did not wallow in despair. Instead he decided to help his community to solve the problem of the rocky terrain.
What Does This Story Teach You
Although we have looked at what we can learn from Dashrath, there are some wisdom we can learn from the story.
1. Team Work
This story reveals to us the power of team work. It took 22 years to build the road path on the mountain. Just imagine if the whole village had helped out, it would have taken less time.
2. Tools.
Dashrath used a chisel, a hammer and a rope to build a road. Tools are very important when it comes to achieving your goal. The wrong tool can make your goal take longer. 
3. Vision 
Dashrath no doubt had a vision but what we can learn is that communicating vision is very important.
We should learn to educate people on our ideas and not assume that they will understand.  
Dashrath's community did not understand his goal which is why they thought it was impossible to achieve.
Learn to communicate your vision and people will definitely support you. Remember, You are an inspiration and a blessing to your generation.