Is Social Media Destroying Your Self Esteem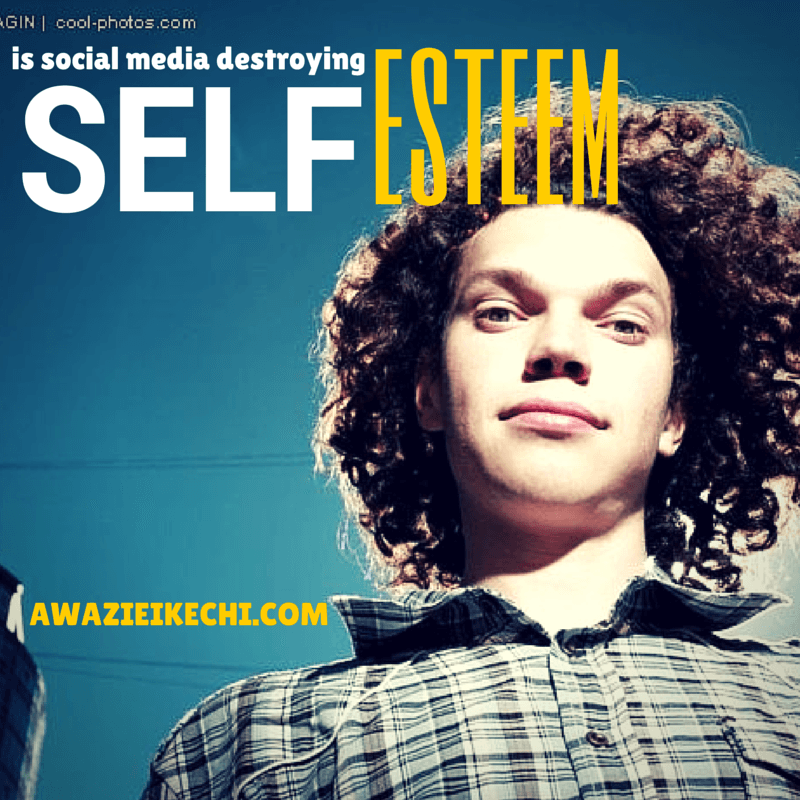 Check out the most interesting selfies ; most people feel that these selfies are very embarrassing While I cannot argue with this point of view, I do ponder why people will go through such measures to post selfies like these.
In a previous post, I talked about Selfies and how Smartphones along with Social media made selfies become so popular but even though technology has enabled us to reach a large audience, there is a constant battle of self esteem among people. Is Social media to blame for our Self esteem issues?. Is Social Media tearing us into pieces?.
Now I have heard people say they are scared about social media. The reason has to with the scams and privacy issues. It's no news and you have even experienced situations where a video goes viral on Facebook because a girl posts something inappropriate to get attention or a guy plays with someone's privacy just for the fun of it without thinking of the consequences but is social media really the culprit.
Recently, the world is taking internet security seriously; as lots of people have suffered from the hands of hackers who steal information and even go as far as becoming stalkers but is social media to blame for such action.
Also See: 10 Ways To Make A Difference in Your Social Media Community
Social Media is Not Guilty
Let's be honest, the problem of self esteem did not start today. In my school days before the internet boom, I recall how students who cherished attention did a lot of crazy things to be acknowledged by their peers. There was a time where a guy would intentionally be mean to his teacher just to get cheers from his classmates or a girl would do a complete makeover just to be like the hottest girl in the school (They still do in modern times thanks to surgery)
Let's not forget that the crave for fame and status started as soon as man became acquainted to this world or else how do you explain the explosion of Hollywood celebrities or the Forbes list of the richest men. How would you explain the rise of surgical facial makeover or the rise of paparazzi.
Also See: Popularity Vs Influence
Social Media is Just Media
What I am trying to say is that people have always had self esteem issues even before the introduction of the Internet. Man has always looked for ways to standout from the crowd; to be acknowledged; to be worshipped and praised; to seek validation and identity from his peers. So when Social Media came into our lives, people saw its potential and took advantage of it.
They saw the power of communication without restriction and space. They saw that they could reach a large number of people in different countries, states and locality with just an internet connection and hardware (laptop, PC and now Mobile phones).
Unfortunately, there is still a constant battle with our self esteem and it is reflected on Social media ( No of Likes and Followers) which is why people do what they do. They still try to get attention from people by trying to do the unimaginable. So here is the thing, if you think Social Media is destroying your self esteem then think again.
Your Turn
While I have voiced my opinion, I will like to hear from you. In what way has Social Media destroyed people's self esteem? Please share by commenting. Thanks.
Hi, my name is Ikechi Awazie and this blog will give you personal development tips that will make a difference in your life. There is no benefit in playing small. Eventually you will come to realize this fact as you learn about people who inspire their generation to greatness. You can add me on on Twitter and Google+. Don't forget to sign up in order to get updates every week as well as The Complete Guide To Success Consciousness.
(Visited 123 times, 37 visits today)